10:00 a.m. to 5:00 p.m.
Click here to purchase tickets  All taxes and ticket fees included.
10 a.m. Welcome
10.15 a.m.   The Story of Wolf Story: Transformation through collaboration in the Puppet eXploratory Lab.  PXL Wolf Story brought four puppeteers together to build an open idea exploring the forced domestication of a wolf.  Through different story-creating exercises and puppet-building techniques it transformed into a one-act, tabletop performance exploring the desires that drive us, conflicts that divide us, and what happens when you can't go home.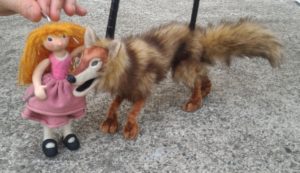 We all have diverse experience from marionettes for television in England (Lindsay!) to puppetry shows in Japan (Maiko!) to the Banff Puppet Intensive (Kristy!).  To continue their puppetry in Toronto, they joined the PXL where puppet builder & writer Robin, searching for more puppeteers, had proposed the Wolf Story project.
11.15 a.m.   Why P​uppets? – Tristan Whiston.  Join Tristan R. Whiston,​ artistic c​o-director of Red Dress Productions​ for a puppet show and tell. Tristan will introduce the diverse cast of puppets created for a new community-engaged performance  ​taking place​ June 9-11 in Winchester Park, and share the reasons and process of integrating puppets into D​rift Seeds: A poetic parody for people living in absurd times.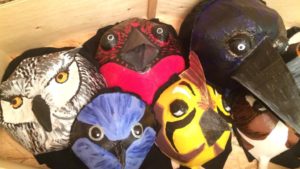 Red Dress Productions ​produces original artwork that strives for innovation, technical excellence and that elicits dialogue and creative exchange while transforming community​ spaces with public art. Since 2005, when founded by artistic co-directors Anna Camilleri and Tristan R. Whiston, RDP has directly engaged 4000+ contributors in 17+ community-engaged visual public artworks, produced 6​ original performances and ​toured to more than 10 urban and rural Canadian communities.
12:00 noon Puppetry and King Lear – Viktorija Kovac.  Lear is a human-size puppet animated by performers, who are also consecutively playing other characters. Cosmic Fishing Theatre's adaptation of King Lear employs collaboration as a core value and method for developing the piece, in pursuit of sophisticated theatrical performance, with puppetry as the connective aesthetic.
Viktorija Kovac is the artistic director of Cosmic Fishing Theatre. With her long-time collaborator and puppetry director, Brad Cook, she shares the process of adapting King Lear using large scale puppetry. The initial phase of development was presented in August of 2016 at The Registry Theatre in Kitchener.
**********************************
12.30 – 1.30 p.m. Lunch Break
**********************************
1.30 p.m. Caliban Deconstructed – Jeremiah Bartram.  Caliban Deconstructed moves beyond The Tempest to explore the gay meta-narrative of Shakespeare's work. Bartram will describe the genesis and narrative arc of this work-in-progress, which is open to collaboration. He'll present its opening scene. This piece raises many questions, including the place of speech and story-telling in puppet theatre.
Jeremiah Bartram is a prize-winning playwright who has returned to writing late in his career – and in doing so, he has discovered the magic of puppets. He is writing a book about puppet theatre, while simultaneously learning the art of animating these vessels of possibility, messengers from our dreams.
2.15 p.m. Photo Booth- Caterwaul Theatre.  An interactive photo booth event, in real life and online. With only an overhead projector, screen and Caterwaul's puppet arsenal, each participant is free to experiment and place themselves in the story they create, while bystanders document the "scene" with photos or video. The result, a simultaneous series of puppet shows, from an unlimited number of perspectives.
Erin Fleck and Sarah Fairlie produce innovative and immersive storytelling in puppetry, analog projection and stop-motion film. Known for the Unintentionally Depressing Children's Tales, Caterwaul has created work for the SummerWorks Theatre, Music and Progress Festivals, as well as music video, live projections and puppet installations throughout Toronto, including Long Winter, Wavelength, Harbourfront Centre, and Girls Art League. www.caterwaultheatre.comescription.
3:00 p.m. Panel – To Script or Not to Script: That's the Question.  A panel discussion about the relationship between text and puppetry, about spoken lines and this image based theatre form. Robin Polfuss, facilitator?   Erin Fleck, Jeremiah Bartram, Viktorija Kovak, Ann or David Powell
 3.45 p.m. A hands-on workshop with Puppetmongers
4.30 p.m.   Interesting puppetry videos, including UNIMA Canada update
**********************************
5 – 7 p.m. Supper Break
Please click here for the evening program
Click here to purchase tickets  All taxes and ticket fees are included.