Starting at 7:00 p.m.
Click here to purchase tickets  All taxes and ticket fees included
**************************************
Ronnie Burkett, Master of Ceremonies. Ronnie has been a working puppeteer for over four decades, and for the past 31 years he has toured internationally with his company Ronnie Burkett Theatre of Marionettes. He still thinks it's the best job ever.
_________________________________
Rootless by Red Orange Projects is an excerpt of a larger piece using a blend of physical theatre and shadow puppetry. It follows the path of a young woman cut off from the land she loves. As an outsider in her new home and facing loss, she travels through a world of myths to find connection.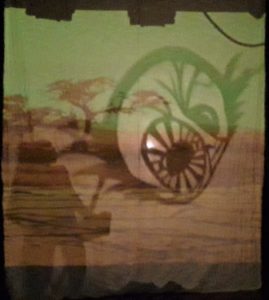 Red Orange Projects is a team that has formed to continue the creation of this piece. Rootless was developed in residency at Theatre Passe Muraille through Diaspora Dialogues. [awaiting an updated bio…]
Alexandra Barbarena – Puppeteer; Bilal Baig – Puppeteer; Camila Diaz-Varela – Puppeteer; Christine Urquhart – Puppet, Set and Lighting Design; Eunju So – Stage Management; Jivesh Parasram – Dramaturge; Lydia Conner – Assistant Set Designer; Tijiki Morris – Writer/Creator; Waleed Ansari – Projection and Lighting Design; Ximena Huizi – Director.
_________________________________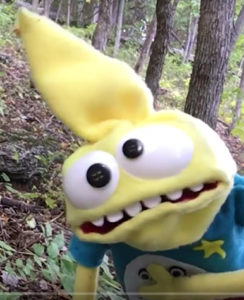 Jeebo is Naomi's first film short, which she wrote, shot, performed, and edited. Her story features an excitable alien who accidentally crash-lands on Earth. Naomi filmed her puppets in a real nature setting, which involved hiding behind stumps and boulders and rolling around in the dirt, often while operating two puppets at once.
Naomi Jardine is a producer of children's multimedia content and a screenwriter for children's television. With her background in biology, Naomi loves using whimsical humour to teach kids about the wonders of nature. While she has written scripts for televised puppet shows, she also builds puppets and is learning the art of puppeteering herself.
_________________________________
The Heist: Breaking and entering. Zip lines. Lasers. Decapitation. Jet-packs. A big bag of cash. Pop culture. Puppets. This is… The Heist.
John Echano, Liz Orenstein, Brianne Desvignes, Nick Maillet, and Jessica Sukmawan began their puppetry exploration during their training at Humber Theatre. Through puppetry exploration, this collective explores action, suspense, and pop culture references. With the help of Justin DuBois.
_________________________________
In Dream Job, Iris ventures to the cave of sleep to fetch a dream from Somnus, god of slumber. V. Dentata Collective was created by three wacky chicks who answered an ad online, and joined Puppetmongers' PXL program. By day we teach, learn, and build. By night we dream of monstrous creatures.
_________________________________
When In Paris follows the story of a person's journey under water. This person finds themselves in a world full of colorful, whacky sea creatures who need a human's help. Will this human be the one? Sleeping man/shadow/dream/under water – "Under the sea"
The creators of When in Paris have just completed their second year as students in the theatre performance/production program, at Humber College. They came together in their puppetry class to devise a piece that incorporated surreal images, song lyrics and contrasting words. Their inspirations included opposing sentiments life and death, the image of water, and a Paul Simon song. Adriana Moraes-Mendoza, Leo Dragoneiri, Iliana Spirakis and Rachel Tomaz.
_________________________________
The Fart Smelled Around the World is a shadow show that combines the classic tropes of a Punch and Judy show with the sophisticated concepts of the Japanese Fart Scrolls. A laconic critique of our modern oppressors, you will laugh 'til you cry. And then possibly cry some more.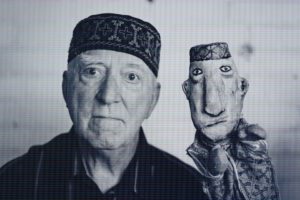 Written and performed by that oldest of farts himself, David Anderson, Founding Artistic Director of Clay & Paper Theatre, and his own Judy and Co-Artistic Director, Tamara Romanchuk.
*************************************
Click here to see the daytime program