February 24 – Halogen and Other Shadow Puppetry  – David Powell
A hands-on introduction to shadow puppetry techniques both ancient and modern.  The day will be an exploration of shadow puppet making, manipulation and staging in a number of different ways and with various materials, light sources and set-ups. There will include, experimenting with the techniques of rods from below vs rods from behind, overhead projector, halogen lamps, and more.
To enroll please click here and then to go the the bottom of the page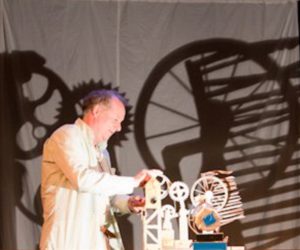 David Powell, the other co-founder of Puppetmongers, has been involved with all levels of production: design, scripting, construction, marketing, touring, performing and administration.  With Puppetmongers, he has created eleven new theatre works, toured extensively nationally and internationally, and received awards from both the theatre and puppetry communities in Canada and the USA.  David's other work has included design and building puppet, sets, masks and props for many theatre companies.  He created Shuttle Dreams, a new-music shadow play with musicians Scott Wilson and Daria Kwiatkowska.  He has taught puppetry arts at the Ontario Institute for Studies in Education (OISE), University of Toronto, York University, University of Windsor, University of Guelph, the Toronto Teachers' College, and at several C.O.D.E Conferences.