January 20 – Toy Theatre Making with Ann & David of Puppetmongers Theatre
From story idea to show time – workshop participants will transform ordinary cardboard boxes into magnificent miniature theatres, complete with little puppet actors and splendid scenic effects.
Before the advent of TV, computers and "IThings", Toy Theatre was a popular household form of puppet theatre, with families creating their own home entertainment by reproducing miniature versions of the theatre shows of the day. These dramas-in-miniature employed all kinds of spectacular effects: indeed, some mechanical contrivances and contraptions first invented for toy theatres were later adopted by "real" theatres. In recent years this all but forgotten theatrical form is enjoying a resurgence in popularity amongst puppeteers and visual and theatre artists, who are exploring the unlimited potential of Toy Theatre in the context of contemporary theatre.
To enroll please click here and then to go the the bottom of the page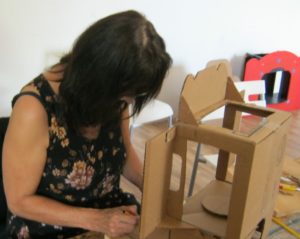 The brother and sister team of Ann Powell and David Powell founded Puppetmongers Theatre in 1974, and have been creating award winning puppet theatre for both family and adult audiences since then. We have toured our productions around the world, earning a reputation as leaders and innovators in puppetry arts. Apart from creating our own works we have also collaborated on other artists' projects, such as R. Murray Schafer's Palace of the Cinnabar Phoenix, Roseneath Theatre's Rocket and the Queen of Dreams, and the movie Mr. Magorium's Wonder Emporium, and we provide workshops through our Toronto School of puppetry.