Workshop with Shawna Reiter and Ginette Mohr.
In this one-day workshop, we will explore how to create trickster characters and then vanish while they play.
DATE: Sunday, March 4, 2018   TIME: 10:00 am to 4:00 pm.  COST (INCLUDES HST)  $125 Regular, or $100 Equity or UNIMA Member/Artist discount.  LOCATION: Puppetmongers Studio. Unit W-23, 388 Carlaw Avenue, Toronto.
ENROLE HERE or contact Puppetmongers: Tel: 416-469-3555,  Email: school@puppetmongers.com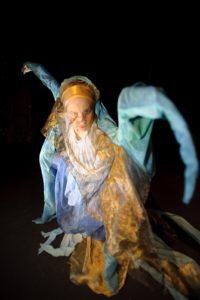 PART ONE: MISCHIEF-MAKING.  Here we call on The Trickster. Jungians suggest that tricksters exist within each of us at the border between conscious and unconscious thought. Appearing in the myths of many cultures, they often act as catalysts to playfully disrupt life and challenge authority. Drawing on character creation techniques from Laban, Viewpoints and clown, we embody our inner-tricksters and ignite new stories.
PART TWO: THE DISAPPEARING ACT.  In part two, we transfer our trickster characters onto our puppets and experiment with how to let them take the focus. As contemporary performance styles often require puppeteers to be visible on stage, it has become increasingly necessary to achieve a puppeteer neutrality. By exploring tension, focus, and kinesthetic awareness, we allow our puppets to take centre stage and provide space for the magic to emerge.
REGISTRATION: Contact Puppetmongers: Tel: 416-469-3555,  Email: school@puppetmongers.com
REQUIREMENTS:  Designed for both the puppet-curious and puppet-experienced, this workshop welcomes individuals from any discipline; i.e., you may be an actor who incorporates puppetry into your training or an artist who loves to build puppets but wants to perform.
Bring water, lunch, a notebook and something to write with. We will provide all other materials, including puppets.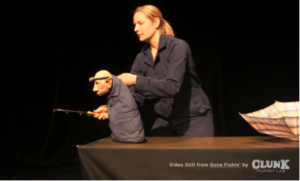 SHAWNA REITER Shawna is a co-founder and the artistic director of CLUNK Puppet Lab. Her work delves into the minute, intimate moments of shared human experience through puppetry, physical theatre and sculpture/installation. Original work includes How I Became Invisible, The Chronicles of Rose, Fin, The Unremarkable Disappearance of Mr. Ogorki and Gone Fishin. Formally a member of the Toronto Puppetry Collective, and currently a board member of UNIMA-Canada, she is passionate about strengthening Canada's puppetry culture through festival development, education, and by supporting new work by emerging artists. Shawna was one of the Creators of the Humber College Puppetry Intensive and Master Class Series. She currently teaches puppetry at Humber College. Website: clunkpuppetlab.com
GINETTE MOHR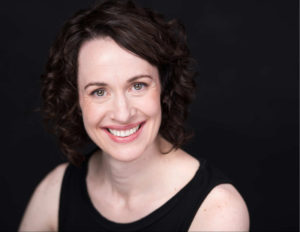 Ginette is a writer, performer and director who creates new work through playful explorations of performance and design. She recently co-created and directed the puppetry sensations Snack Music and Table Top Tales (SNAFU Dance Theatre), with performances scheduled at the NAC this winter. She will also perform her puppetry co-creation Lost and Found with Theatre Direct this spring. Previous theatre credits include: The Stratford Shakespeare Festival, Neptune Theatre, Young People's Theatre, The Quickening Theatre, Theatre New Brunswick, Drayton Entertainment, Theatre Aquarius, Keystone Theatre and The Second City. She periodically teaches performance techniques at York University, The Second City, Theatre Direct, Young People's Theatre, and The Living Arts Centre.