Three Sundays – November 26, December 3 & 10.                        10:00 a.m. to 4 p.m.
At Puppetmongers' Studio Please visit this page for the workshop location   (Dundas East & Carlaw)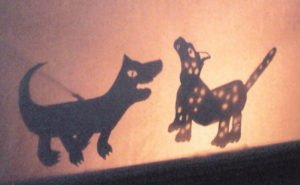 Join the Puppetmongers to work on the creation of a show. Beginning with a story idea, we will work through the entire process of storyboarding/scripting, design, construction of puppets and scenic elements, and delve into developing the characters and voices, along with blocking and rehearsing the show.
This workshop will focus on the whole art of creating a show – a condensed version of the way Ann & David of Puppetmongers Theatre create their own works. To get this all into three Saturdays, and because we love this form of puppetry, we will be working with shadow puppets – a quick and effective form of image making.
FEE:  $225 for the three days.
Or with a cheque made out to The Toronto School of Puppetry can be mailed to 3 Jersey Avenue, Toronto, ON. M6G 3A2   (N.B. This is NOT the workshop location Please click here for studio directions)