With Shawna Reiter of CLUNK Puppet Lab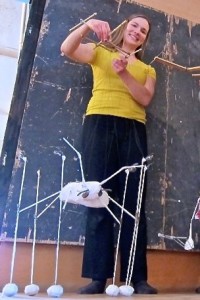 Saturday November 26 and Sunday 27, 2016 10 am to 4 pm. Two days for $200 registration plus $20 materials.
String Puppets have their own properties of movement, relationship to gravity, tension, weight, and character. In this introductory workshop participants will create string puppets out of a variety of materials to explore movement, breath, impulse, and focus and performance techniques. Emphasis will be on experimentation and play.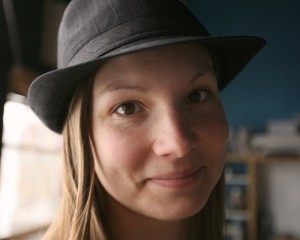 Shawna Reiter is the Artistic Director of CLUNK Puppet Lab a multidisciplinary company that creates original art and theatre work that delves into the minute, intimate moments and connections of shared human experience. She is co-creator/writer/and performer of CLUNK Puppet Lab's "How I Became Invisible", "Fin", "The Uneventful Disappearance of Mr. Ogorki", and "Gone Fish'in". Trained as both a visual artist and puppeteer Shawna devised a hybrid practice that integrates her artistic training with her passion for puppet theatre. She has created large-scale sculptures, robotic puppet installations, and interactive video animations, alongside her theatrical productions.
Shawna holds a degree from the Ontario College of Art and Design, and an MFA from the University of Calgary. She studied puppetry at the Banff Puppet Intensive, the Sandglass Theatre Puppet Intensive, Mouth Puppetry for Stage and Film with Mike Petersen; String Puppetry with Frank Soehnle; Voice for Puppetry with voice instructor Paul De Jong; and has apprenticed under Peter Balkwill of the Old Trout Puppet Workshop. Shawna has also studied physical theatre and clown at The Manitoulin Conservatory for Creation and Performance and at Green Fools Theatre.
Shawna has been teaching both fine art and puppetry classes and workshops for over 12 years to children and adults from diverse backgrounds at universities, colleges, art galleries, and school boards across Canada. She currently teaches puppetry at the Humber College Puppetry Intensive and Master Class Series.